Meet
with
results
Effective video conferencing
We believe that video conferencing tools are not only for bringing people together despite the distance, but also for increasing effectiveness. Thanks to Confly, you can shorten your work time to focus on what matters the most.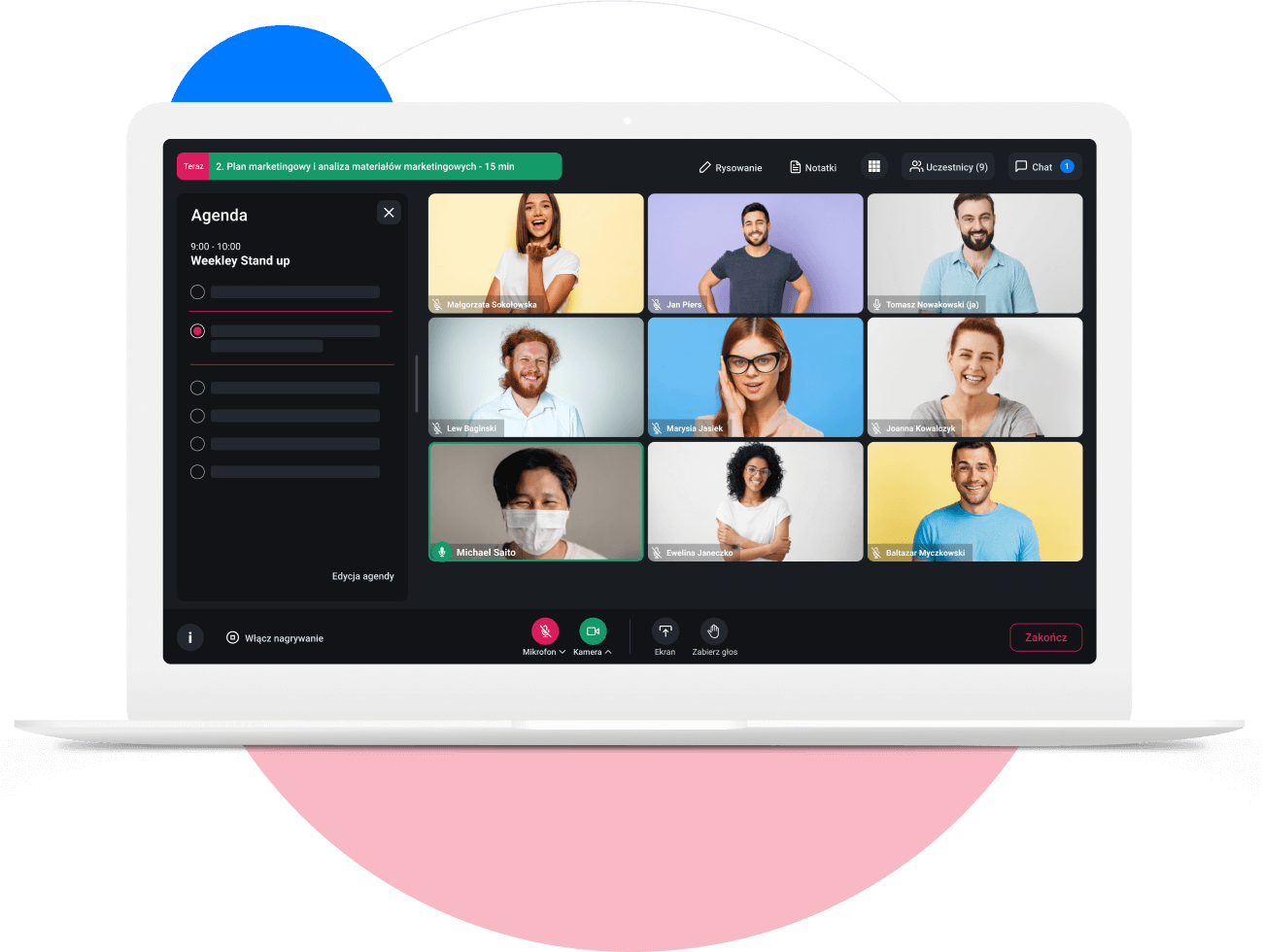 How Confly can help you?
Jesteś freelancerem, działasz w małej firmie, czy jesteś częścią międzynarodowej korporacji? Różnimy się, dlatego w Confly przeprowadzisz swoje spotkanie tak, jak lubisz, a cele zrealizujesz w zależności od tego, czego potrzebujesz.
Start a meeting
Effective business meetings
Organize meetings based on results. Use the meeting agenda feature.
Efficient team collaboration
Engage your customers with interactive work via virtual boards, notes, and chats.
Product or idea presentations
Present what you want! Share your presentations or explain ideas using the virtual board.
Display of your performance
Are you a freelancer? With Confly, you can quickly and easily discuss the results of your work.
Why Confly?
Confly helps you focus on the goals and agenda of a meeting to help you achieve the desired results more easily.
Find out more
Meeting agenda
Create and share your own meeting agenda with other participants. You can optimize the time of your conversations by sticking to the schedule.
Recording a video conference
Are you not a fan of taking notes during meetings? Focus on the important conversation – Confly will record the entire meeting for you so you can replay it as you please.
Access materials
Confly is a complex solution for all of your materials after a meeting, including the agenda, notes, and recordings. No need to search anymore!
Starting with ease
Don't waste time setting up additional programs. Click on the link and start chatting. It's so simple!
HD quality
"Can you hear me okay?" is now an obsolete question. At Confly, we offer HD quality for you so that nothing should disrupt your connection.
Hassle-free moderating
Simple messages will allow you to keep rules and order during a meeting, so you focus entirely on the conversation.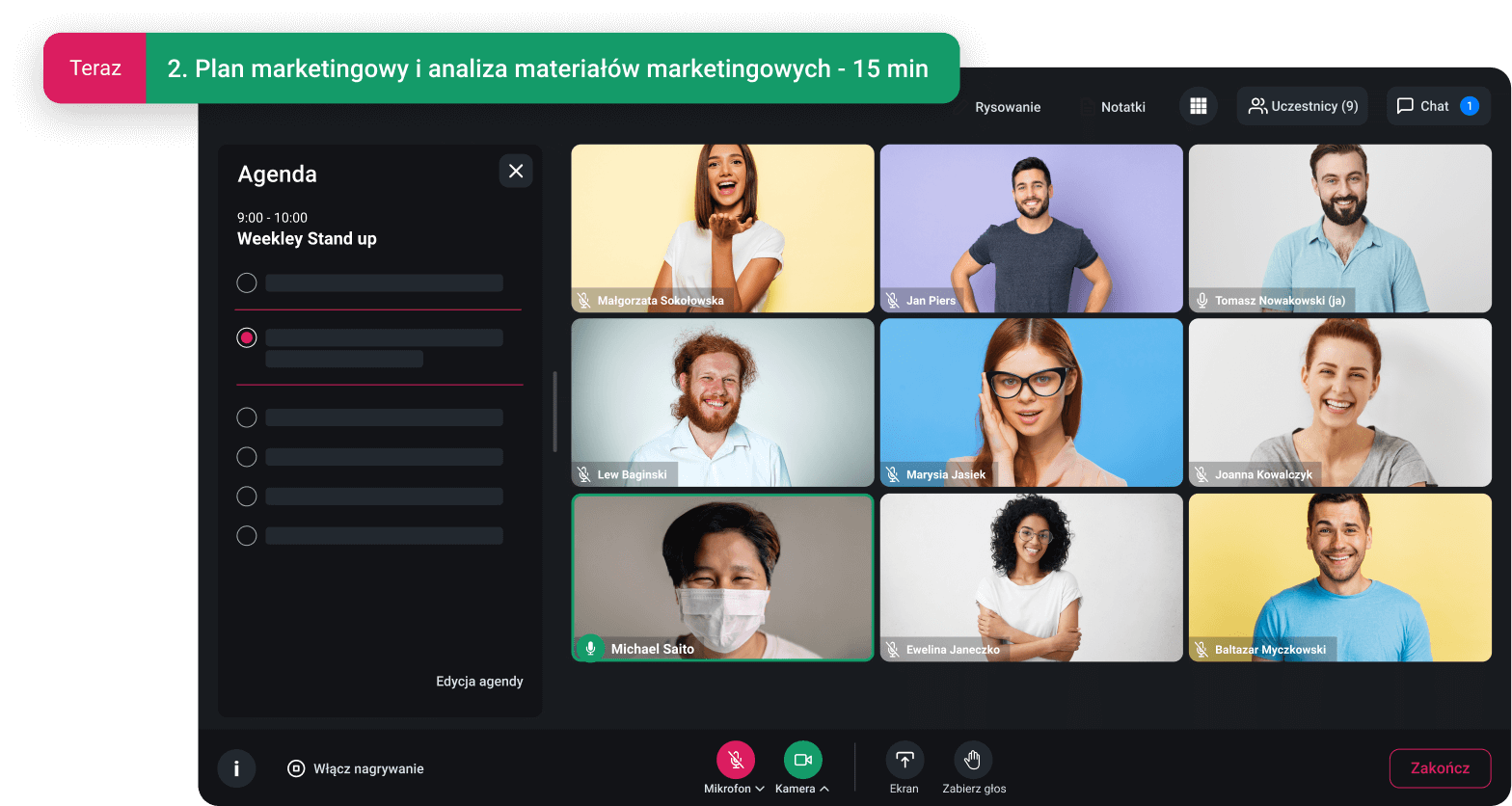 Meetings without a plan are often ineffective. That's why with Confly you can create an agenda before a meeting begins to optimize its duration and achieve pre-defined goals.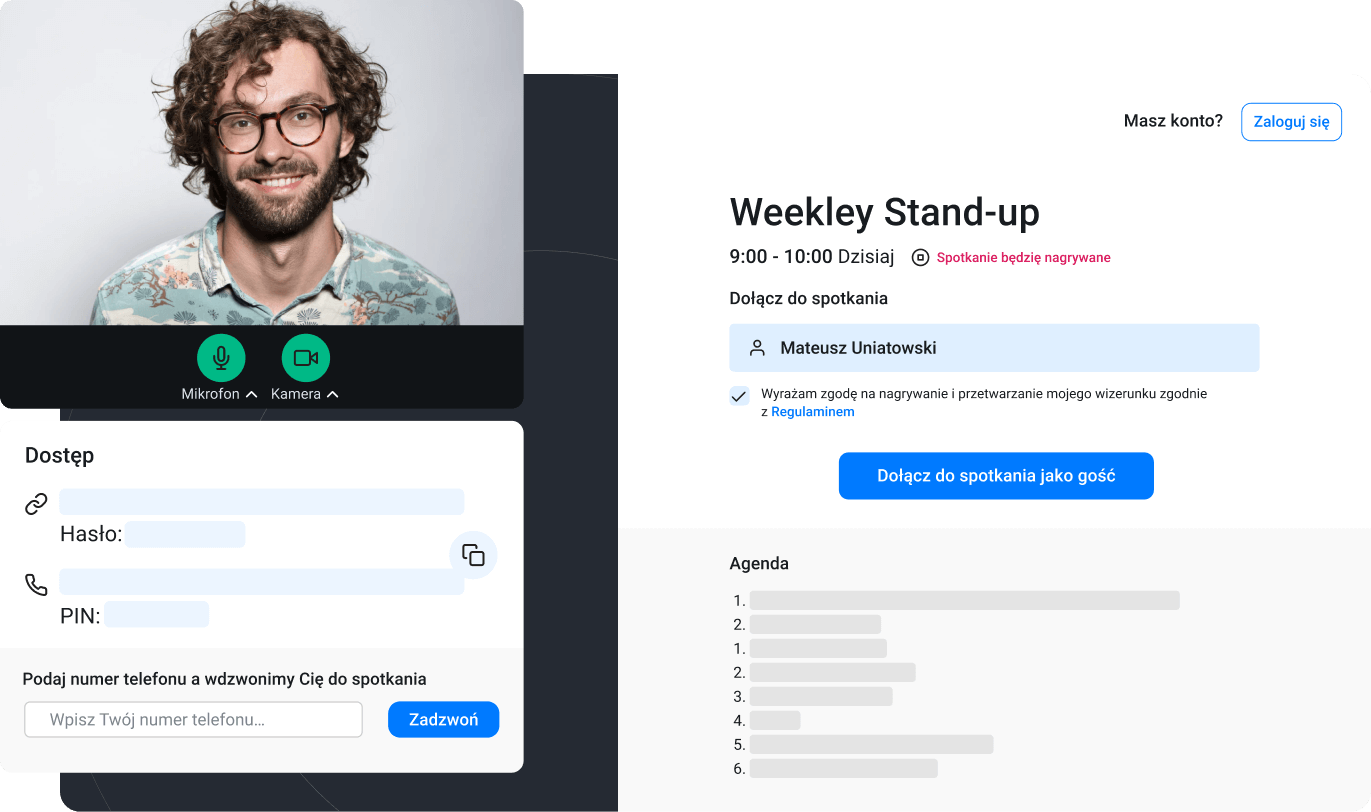 You no longer need to install any programs or applications. Just click on the link and join the meeting in the quickest and easiest way.
We thought about those who don't like taking notes during meetings. After your meeting is finished, you can quickly go back to the recording and recall all of the important information.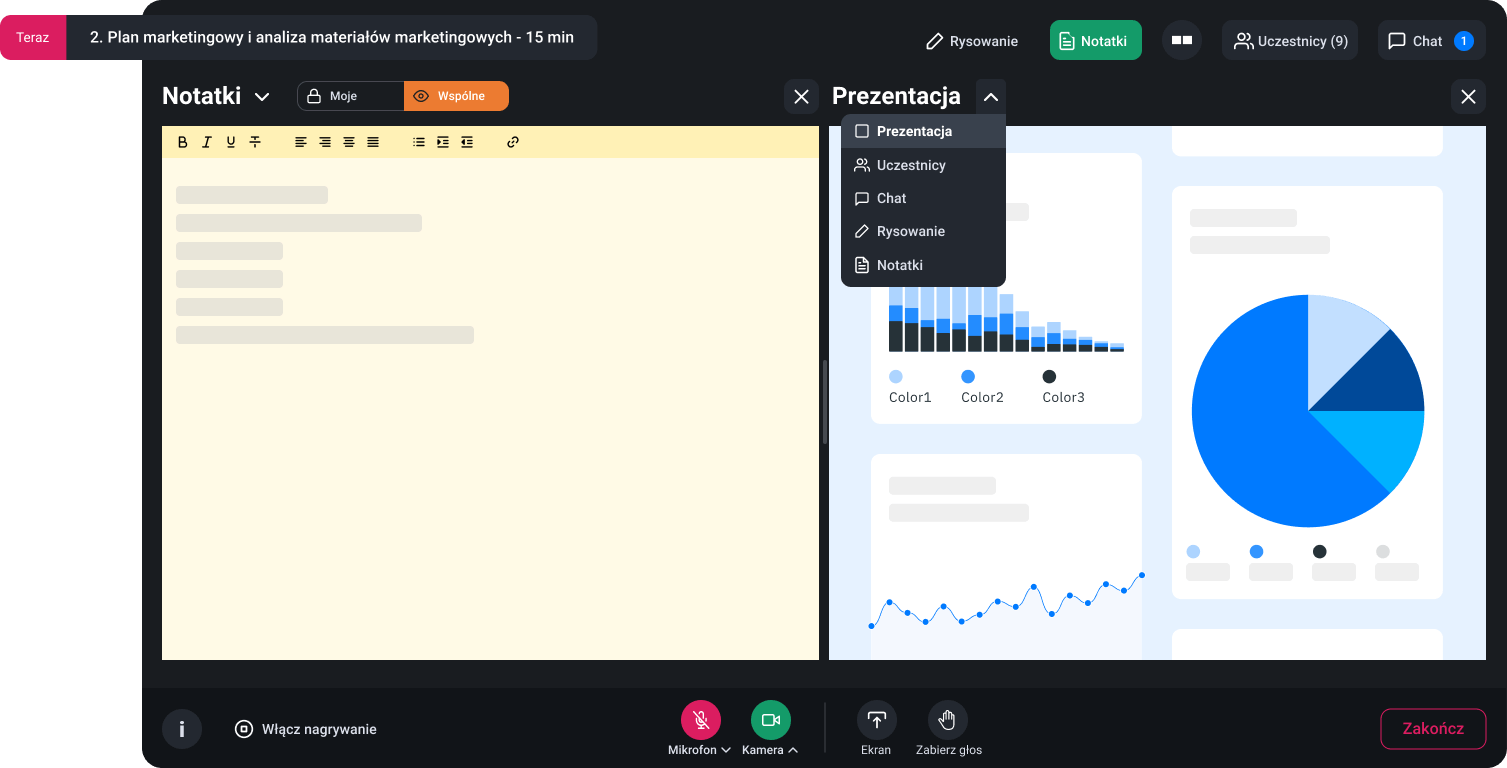 Confly gives you the options of creating notes during the meeting, which are saved in your panel. You can also send meeting notes to other attendees to keep them in the loop.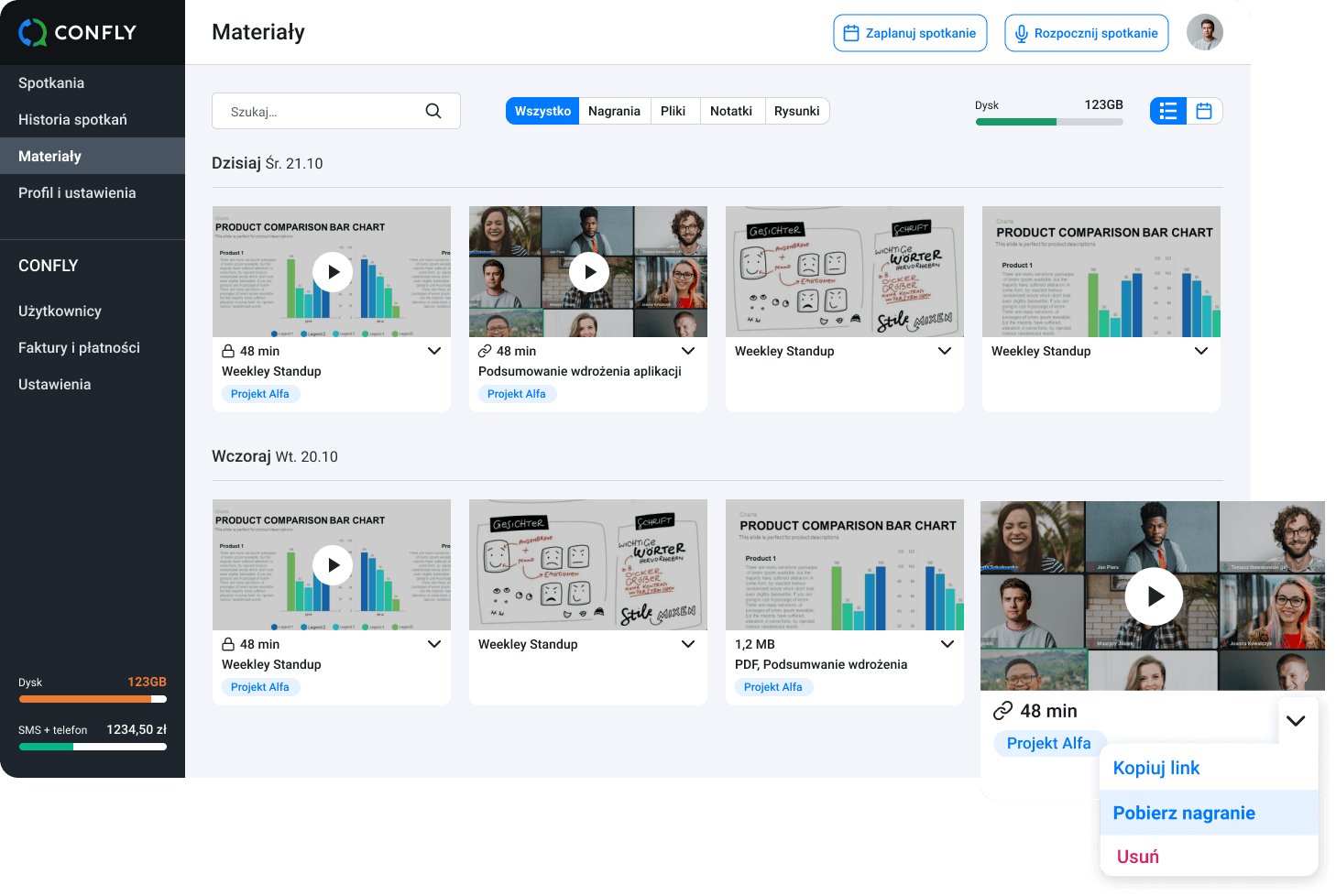 Thanks to the complex user panel you have all materials in one place, including both recordings and notes. No need for endless searching! Simply enter the panel, access your materials, and use them as you please.
See all features
Try Confly
Are you tired of meetings that are unnecessarily prolonged due to a lack of agenda, poor connection, or technical issues? Confly is the best video conferencing system to provide you with the convenience and efficiency of running meetings.